Orchid Paradise Monte Gargano 16-23 April 2016
(You get a bigger picture when chlicking the pictures)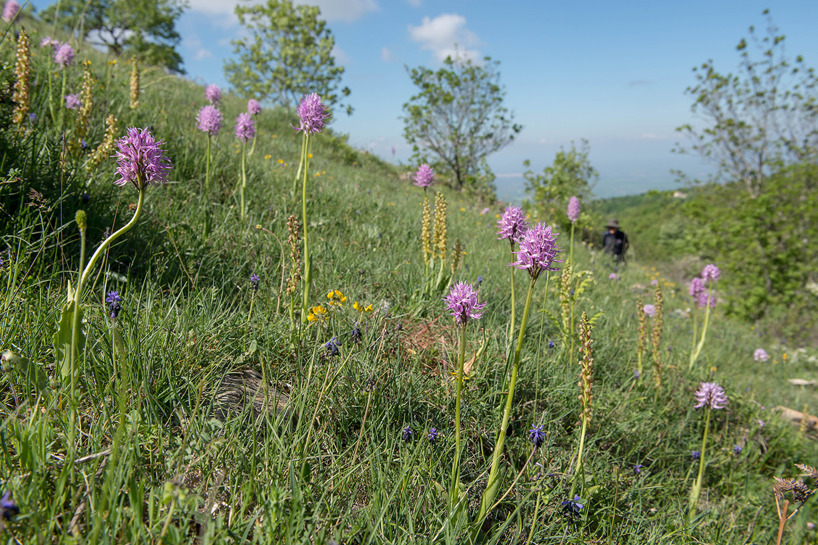 Now we took the second one of the longer tours, in fact the longest of which chould be about 160 kilometers. The route goes around the peninsula's highest peak, Monte Calvo 1065 m. We drove to San Giovanni Rotondo and further via San Marco in Lamis toward Sannicandro Garganico. On this part of the route, we passed the route's highest point, just over 700 m. The steep slopes after San Marco in Lamis, just before we came up on the new level, was worth the trouble of getting up there. Here most orchids where fresher than lower down. The image above shows a slope with lots of Orchis anthropophora and Orchis italica.
Anacamptis collina, faded
Anacamptis fragrans, bud
Anacamptis morio
Anacamptis morio var. alba
Anacamptis papilionacae
Anacamptis papilionacea x morio
Anacamptis pyramidalis
Dactylorhiza romana
Himantoglossum hircinum
Himantoglossum robertianum, faded
Limodorum abortivum
Neotinea lactea, faded
Neotinea tridentata
Neotinea tridentata x ustulata
Neotinea ustulata
Ophrys incubacea
Ophrys apulica
Ophrys archipelagi
Ophrys argolica ssp. biscutella
Ophrys argolica ssp. biscutella x ?
Ophrys bertoloniformis
Ophrys bertoloniformis x incubacea
Ophrys bertolonii
Ophrys bertolonii x neglecta
Ophrys bombyliflora
Ophrys brutia
Ophrys funerea
Ophrys incubacea
Ophrys lucifera
Ophrys melena
Ophrys minipassionis
Ophrys neglecta (syn. O. tenthredinifera)
Ophrys neglecta x ?
Ophrys oestrifera ssp. montis-gargani (syn. O. cornuta)
Ophrys parvimaculata
Ophrys passiones ssp. garganica
Ophrys phryganae
Ophrys promontorii
Ophrys sicula
Ophrys sipontensis
Ophrys sphegodes sp.
Ophrys sphegodes ssp. tarquinia
Orchis anthropophora
Orchis anthropophora x italica
Orchis italica
Orchis pauciflora
Orchis provincialis
Orchis purpurea
Orchis quadripunctata
Serapias bergonii
Serapias cordigera
Serapias lingua
Serapias orientalis ssp. apulica
Serapias parviflora
Serapias vomeracae